About Us


Ankur Minerals Pvt. Ltd., established in the year 1991, has set a strong foothold in the market as a prime manufacturer, exporter and supplier of Hydrated Lime/ Slaked Lime, Quick Lime/ Burnt Lime and Quick Lime Powder. The company has huge production capacity along with modern technologies to ensure constant and uninterrupted production of the products. With complete plant maintenance system, constant raw material supply and huge storage capacity, we have been offering complete satisfaction to the patrons. The company has been scaling new heights of success in the market under the skilled leadership of the directors of the company having more than 20 years of expertise. Our core management includes:

Mr. Shiv Kumar Pitti ( MA, LLB )
Mr. Narendra Kumar Pitti ( BE, Mech.)
Mr. Mahendra Kumar Pitti ( BSc, MA, Economics )
Our Products


We have been offering the best quality range of minerals for versatile uses. Our products are processed from the natural and high grade ingredients to ensure maximum efficiency. We have been dealing in the given below array:

Hydrated Lime/ Slaked Lime
Quick Lime/ Burnt Lime
Quick Lime Powder
Manufacturing Units


We have 2 modern production and processing units for the development of the best solutions. Located at village Khejarla in Jodhpur District, the installed capacity of Hydrated Lime is 25000 MT and Quick Lime is 20000 MT per annum. In addition, the associate concerns of the business are Shaurya Minerals, Khimsar and M/s Carbonate Corporation at Gotan with installed capacity of 15000 MT and 30000 MT per annum respectively. We have state of the art production machines like 4 kvic designed coal fired kilns developed from firebricks for manufacturing quick Lime, a fully automatic plant for Hydrated Lime to offer the most suitable Lime, etc.


Quality Standards


Being an ISO 9001:2015 certified company; we have gained huge recognition in the market. We have been strictly adhering to the national and international quality norms to develop high end products to the clients. Our prime focus is to meet all the parameters of quality starting from the first stage of procurement to the processing to the delivery of end products. With advanced quality testing tools and equipment, we offer pure and effective range with zero flaw. We meet the demands of the following sectors:

Steel: As A Flux In Varied Steel, Metallurgical Plants.
Water Treatment: For Drinking Water Treatment As Well As Wastewater Treatment
Road Building: For Building Base Of Roads.
Paper: As A Coagulant To Develop Sheet With Grass As Well As Waste Paper
Chemical: To Develop Bleaching Powder, Propionate Calcium Citrate And Di Calcium Phosphate,
Leather: For Cleaning Leather In Tanneries.
Sugar
Paints
Dairy
Agricultural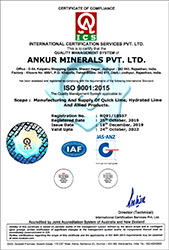 Read More